Successful music retailers understand the power of events. Events bring people together, give your staff something big to talk about, and add to the upbeat atmosphere of your store. When you think about it, events have some of the same magic powers as music itself.
Still, it's understandable to feel a little skeptical. Events can seem like a lot of extra work and hassle for an already busy business. That's why, at the end of this post, we've included a big list of event-related ideas- so you can choose a few that are best suited for your company.
Let's start by looking at event-related options and why they're valuable to your music business.
3 Types of Events
Traditionally, there are two primary ways to build events into your overall plan: host them or join them. There's also a third way, courtesy of the internet: share an online-only event. Let's look at each option.
Option 1: Hosting Live Events at Your Store
By hosting live, in-person events, you get the benefits of building foot traffic for your store. This is the holy grail for most music shops – more people, more opportunities for sales, more revenue. Just a single 1-hour event can bring hundreds of potential customers, if you do it right.
Event hosting is an excellent strategy for a music business that needs to boost loyalty. New customers come directly to your store and get comfortable making the trip. You can connect with them face-to-face at the event, then stay connected through coupons, limited-time offers, and loyalty clubs. Long after the event, they'll remember you when they think of music.
Of course, store-hosted events come with the work and cost of event planning. Expect extra staffing hours and set a budget. It's difficult to host a public event for less than a couple thousand dollars – especially if you're going to promote it properly.
Staying organized is a big part of event planning. Put someone in charge of keeping event details on track and on budget. You may need to work with a marketing consultant so your event planning runs smoothly while you focus on day-to-day operations.
Option 2: Joining Community Events
If it's not feasible to host events at your location – or if you'd like to do something in addition to store events – explore community events in your area. Festivals and fairs are ideal for music stores. They have a high-spirited atmosphere where music is welcome.
Community events usually require you to purchase a booth or secure permission to be on the grounds. This may take some advance planning, as popular events sell out week or months in advance. Work with the event organizers to determine their rules and opportunities.
Let's say your music shop has secured a booth at an upcoming farmers' market. The booth cost $200 and you're hoping to make it worth the investment. Now what?
The worst thing you can do next is assign a couple store employees to simply stand at the booth trying to talk to people – that's too boring. Instead, use your extensive background in music/performance to create a memorable experience for attendees. Bring instruments. Bring singers. Get the crowd involved in music.
Just like a store event, a community event can drive foot traffic to your store – plus web traffic to your site. Give people a reason to seek you out later: coupons, flyers, web discount codes, exclusive content, contests.
Option 3: Sharing Online Events
All events don't have to be attended in person. You can also host online events. These web-based options come with added benefits like: worldwide audience, low cost, little to no staffing, and long-term archiving on the internet.
Of course, online-only events also have some drawbacks: no foot traffic, less human connection, reduced impact of live music, and trying to stand out in the crowd of the internet. These drawbacks may seem major or minor, depending on the structure of your business.
One key factor in scheduling online events is the impact of social media. YouTube, Facebook, Instagram, and Musical.ly can make a big contribution to your attendance. If you already have a strong social following, that interest can add to the success of your events. And on the flip side, online events can help build an online presence by expanding your interesting content available for fans.
A Big List of Event Ideas
Intrigued by the concept of building audience through events? Great – let's expand on that excitement with some idea starters. Here's a helpful list of options, sorted by category: store events, community events, and online events.
Ideas for Events to Host at Your Store:
Free demos

of unusual instruments and

hands-on events

can bring people to your store. Rather than just focusing on school-age children – a common habit of music stores – invite bloggers, music instructors, community bands, and students at nearby community colleges. Introduce people to new music and encourage them to try new instruments for themselves. Promote it as a way to hold a rare violin, try conga drums, play a rare Steinway, or learn the ins-and-outs of complex electronic equipment.

Informational/educational seminars

can also attract struggling musicians. Host chats that help solve your customers'

biggest problems

, like managing their careers, balancing finances, looking for bandmates, handling competition, and finding time to play. Marketing seminars help musicians too. Can you help them by bringing in someone who's a music marketing expert? For advanced players, hold seminars that help them expand their music knowledge and playing techniques.

Guest speakers

can bring crowds of people to listen in. The bigger the celebrity, the bigger the audience. Ask them to speak on topics like music theory, innovation, and the future of music.

Parent and grandparent welcome events.

Research shows

parents affect

musicians' financial decisions well into their 30s. So welcome parents and grandparents to your store with events focused on them. Offer free food, free wine, and gift-giving discounts.

New musician and young band live performances.

For fledgling bands, it's hard to find gigs and get people to come to their performances. Become the

go-to location

for groups looking for places to play for a public audience.
Community Events to Seek Out:
Public demos

of instruments or songs. These can take place at virtually any community event or space, even without a formal booth. Would a family-owned restaurant allow one of your musician-employees to play on their patio for free? That's an opportunity to offer coupons and connect with the crowd.

Hands-on

"meet the instrument" opportunities. These kinds of events don't have to take place at your store. Take some instruments on the road to a festival or fair in your area. Join a holiday celebration. Church events and craft shows often welcome musicians who can add to the atmosphere.

Photo booths

. Host a booth where people can take a photo with a famous musician or weird instrument

. Put the photos on social media. In the era of Instagram, people love having the opportunity to take funny photos and share them.

Remember to drive traffic

to your store, no matter which type of community event you select. Hand out coupons that drive store foot traffic later. Provide coupon codes that send people to your website. Give out free sheet music. Use prominent signs and flyers that promote your brand.
Online Event Ideas:
Showcase/exhibition event

. Online events are perfect for showcasing your inventory. Create an online event that introduces people to your location. Do a store walk-through, 360-degree view, or have a local celebrity narrate what it's like to be in your store.

Online conference with a guest speaker

. Invite musicians from around the world to an online event with your guest speaker. It could be someone well-known or one of your store employees who's an expert in musical technique. Invite a local music instructor to do an

educational

series.

Unboxing video

. Is your store due to receive an exciting new instrument or model? Turn it into an event. Show what it's like to open its packaging and see it for the first time. These kinds of

unboxing videos

are very popular, especially with people looking to make purchases.
Ready for even more ideas like these? Download Octave Media's ebook How To Reach New Music Retail Audiences. It's packed with tips for music retailers in search of new customers and revenue.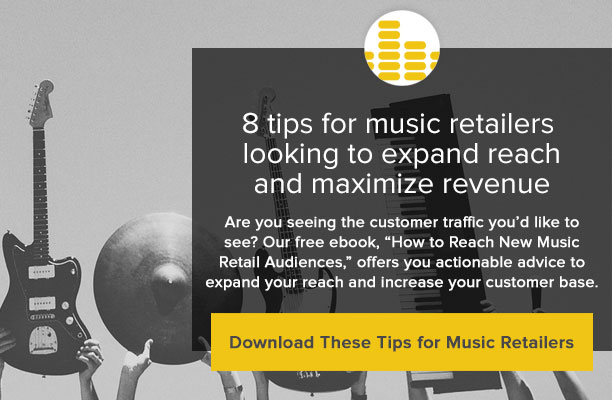 (photo courtesy of Lucas Allmann from Pexels)