Your chances of starting a successful online musical instruments store or other music product business have never been higher. Millions of people launch one every year. And there's a huge amount of resources to help you.
You can start a digital business selling music products in less than a month. Here's how!
Recommended reading: 5 Reasons Your Music Business Needs a Music Marketing Plan
Days 1 – 5: Brand Identity
Your brand identity is essential. It defines your unique selling proposition (USP). It establishes who will buy your products. It dictates how your business looks, sounds, and feels. Everything flows from it.
Look at other companies in your niche for guidance. Here are two examples:
MARSHALL: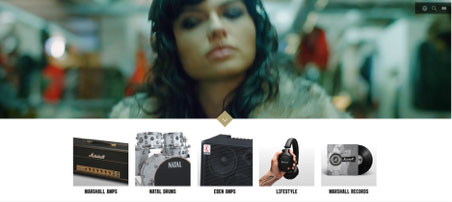 AMERICAN MUSICAL SUPPLY: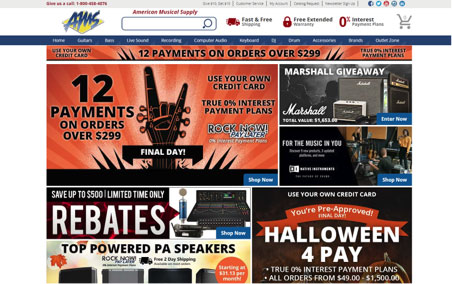 Now consider this:
Who is their target audience?

What is their unique selling proposition (USP)?

How is this represented on their website?
Good branding makes the answers to these questions obvious. To develop a good brand identity, follow this process:
Decide who your target audience is 

Write a mission statement for your brand

List the benefits and features of your brand

Establish your brand voice

Create a tagline, message, and elevator pitch that crystallize all of the above!

Brand Identity Hack
Great brands are often high sellers. Type your brand ideas into Google and use the top ranking ones as your examples. There may be a lot you can learn from Marshall, Fender, and their peers.
Days 6 – 10: Set Up Your Website
Your website is a visual representation of your brand. Use your notes from days 1 – 5 to decide how your website should look.
Then build it.
Select a content management system (CMS) to create your website. WordPress is one of the most popular choices. It powers 30% of websites and millions of businesses use it. The video below has expert guidance on how to build an online business with WordPress:
If you choose WordPress you'll need to arrange and pay for a number of features. This includes things like hosting and your domain name. If you use a hosted CMS many of these come as part of the package.
Check out this article for a list of the best hosted CMS providers.
Website Set Up Hack
Not confident about building your own online store? Then hire a web designer to do it for you. Give them your brief and let a specialist do the hard work.
Days 11 – 15: Add Your Content
Your online business needs lots of content. These are just some of the pages your website will need copy for: 
Products

Categories

Home

About

Contact
If you want people to find your online musical instruments store or music product business, this content will need to be well-optimized. Writing with SEO in mind is a skill. You can't only describe your products, categories etc… You have to incorporate keywords used by your target audience.
For top advice on how to write SEO copy, watch the video below:
Content Hack
Look at your competitors and reverse engineer their content strategy. You can use a tool like Ahrefs to help. Keying the web address into Ahrefs shows you the keywords used.
Here's an example:

I've used Puremagnetik as my example. It's an online business which sells sound content for music makers. It gets good traffic which makes it a great website to learn from. Currently valued at almost $500,000 on the Exchange business listing site, it's an example of where your business could be in two years.
The video underneath explains the many benefits of Ahrefs:
Days 15 – 21: Test Drive 
Your online store is now set up. Before you launch it you must make sure it's fit for purpose. You do this by testing it.
Alpha Testing
This reviews the quality of your online store. The aim is to find bugs and establish whether it works.
Beta Testing
This looks at how happy your target market is with your website. It does this by taking a guided tour of your website.
Place an Order
Once these test are complete you need to place an order through your business. This allows you to see first hand if the system works.
Test Drive Hack
You could get people to test your site for free by posting it on community forums. Reddit and Quora are great examples. You could also look for music forums for some niche-specific feedback. 
Days 22 – 25: Social Media and Marketing
With the main course of your online music business cooked, it's time for dessert: letting people know your business exists.
Social media, marketing, and advertising are broad topics. They're big enough to warrant their own articles. So I'll give you the skinny.
Social Media
Use the platforms you're comfortable with and which your target audience use. You can add more once your business is going. For tips on how to set up your social media channels, watch the video below:

Marketing
Email has the best ROI. Social media has the most engaged users. Content is key to SEO. Don't limit yourself when marketing. Each type has its pros and cons. Research each by reading this article.

Hack: Employ a Marketing Agency
Using a professional pays dividends. Find a specialist agency which does marketing for music merchants.
Days 26 – 30: Launch and Review Your Online Musical Instruments Store 
You're almost ready. The last thing to do before you press go is to establish your KPIs. This is important. Why? Because it's how you review the success of your online store – is it meeting the goals you set?
To help establish your KPIs, check out the video below:
 
Now press go! Then review! 
There's a lot involved in setting up an online musical instruments store or other business selling music products. But it's all straightforward stuff. Now you know what to do there's nothing stopping you except yourself. So start your business!