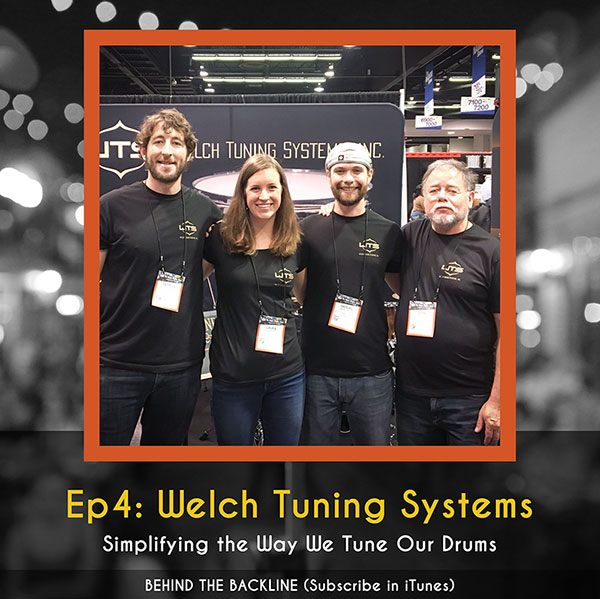 Welch Tuning Systems – Simplifying the Way We Tune Our Drums
Episode 4 of Behind the Backline
Welch Tuning Systems – Simplifying the Way We Tune Our Drums
Show Notes
What do you get when a drummer who's had enough of individually tuning up to 20 points on a drum comes to his senses and realizes there's got to be an easier way? You get Welch Tuning Systems!
Welch Tuning Systems CEO Samuel Welch joins us in this episode to share his story of how his frustration when tuning his drums came to an end with the creation of his single-point tuning system. Using a bass guitar tuning peg, he and his team eventually figured out how to replace the multiple tuning pegs on a drums with a single wire system to ensure both heads on a drum were tightened exactly the same, making it easier for drummers to find their sweet spot and adjust a drum's tuning in mid-performance.
While it isn't publicly available quite yet, their presence at NAMM this year proved to them that there is a ton of potential, demand and excitement for what they are doing.
Facebook: http://www.facebook.com/welchtuningsystems
Instagram: http://www.instagram.com/welchtuningsystems
Twitter: https://twitter.com/welchtuning
YouTube: https://www.youtube.com/channel/UC6BpttDXjTKORTEAvQVcYQg