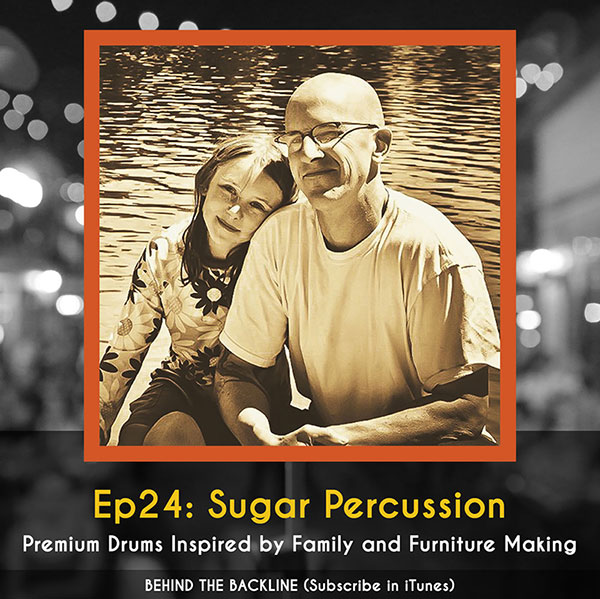 Sugar Percussion – Premium Drums Inspired by Family and Furniture Making
Episode 24 of Behind the Backline
Sugar Percussion – Premium Drums Inspired by Family and Furniture Making
Show Notes
When you're a drummer that has made custom furniture for 20 years and your drums age to the point of being unplayable, what options do you have? Well, you could wait to scrap together enough money to buy a new one, or decide to put those woodworking skills to even more use, learn how to build drum shells and build your own kit. I'm sure you can guess which path Jefferson took.
Behind every Sugar drum is 20+ years experience with woodworking techniques, knowledge of quality wood selection, and a passion and obsession to create high quality, high standard products. And behind the Sugar name is a standard of quality, passion and love that can only be matched and surpassed by the relationship Jefferson has with his daughter and company namesake, Ms. Ruby Sugar. If a drum doesn't meet his criteria, it becomes unworthy of bearing her name.
Sugar Percussion, while a small operation of only two drum builders, is on a mission to preserve the true definition behind the word "custom", focusing on building a drum all the way up from the tree to match a customer's requests rather than allowing a customer to just select from a pre-determined list of shells, a list of available colors and adding on store bought hardware.
On their website, they have no standard website shopping cart or checkout process. There is no standard list of available products to choose from. Just the details you need to help you design the drum set of your dreams and a quick way to email Jefferson directly so you can begin having a personal one-to-one conversation about your ideas and how you're going to achieve it together with Sugar.
Jefferson Shallenberger, owner and drum builder of Sugar Percussion, joins us in this episode to talk about the passion and inspiration that led to Sugar's early beginnings, why he has to answer to his CEO (his daughter and the company's namesake), and how his attention to detail and his high standards to produce a quality product, furniture or drums, has made Sugar a premium drum brand.