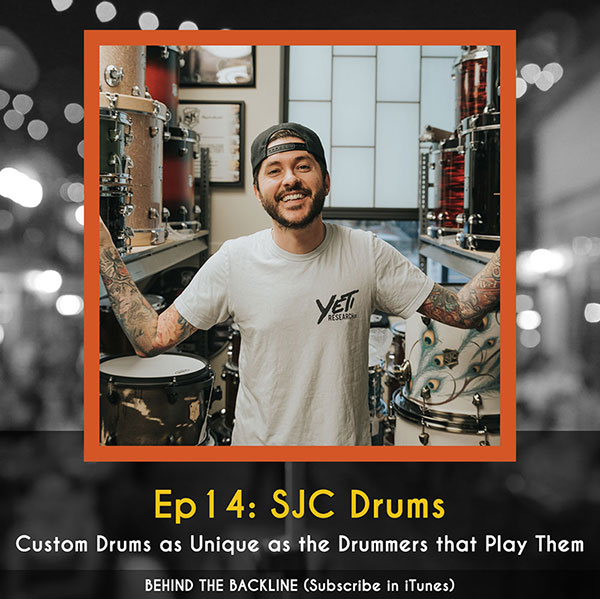 SJC Drums – Custom Drums as Unique as the Drummers that Play Them
Episode 14 of Behind the Backline
SJC Drums – Custom Drums as Unique as the Drummers that Play Them
Show Notes
Every business on the planet has a story that starts with humble beginnings. Some companies are created with well-intentioned goals, while some are formed by accident out of a passion or hobby. Some start in fancy business incubators while some start in garages or grandma's basement.
This is definitely one of those "hobbies in grandma's basement" kind of stories.
SJC Custom Drums initially began as a hobby by Scott and Mike Ciprari out of their grandmother's basement in 2000. What began as a basic operation of refurbishing and painting old drum sets has turned into a company that still prides itself on crafting high-quality drums that are custom to each drummer's unique needs. Their tagline "Built with Passion, Played with Pride" is reflected in every product they make and every drummer that has the privilege of playing them.
They have built their brand around the quality of their products, the passion they have for building and playing them, the community of drummers and builders they have cultured and nurtured, and the pride they take in going the extra mile for all their drummers, from local players to major headliners.
Co-founding brother and CEO Mike Ciprari joins us in this episode to talk about what it was like growing up and working with his brother Scott, watching him refurbish and build drums, what the journey has been like to create what is now a 5-time winner of the Best Custom Drum Company, and how it feels to now call SJC home to major players like Tre Cool of Green Day, Jay Weinberg of Slipknot, and Josh Dun of Twenty One Pilots.
Are you a Drum Brand or Manufacturer Looking for Business Growth?