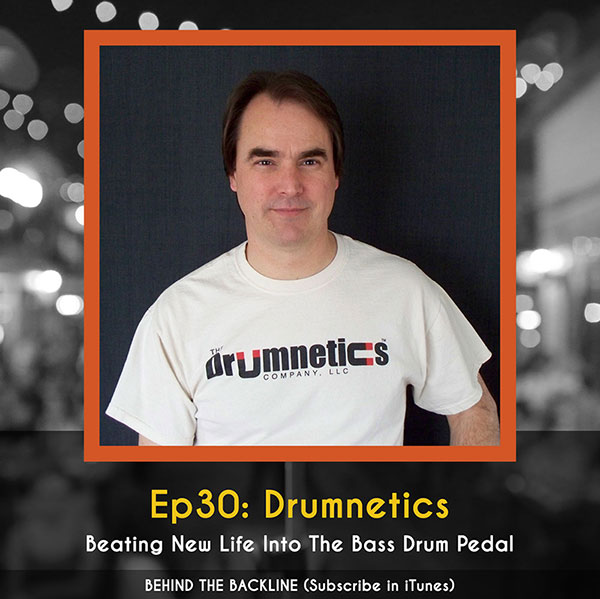 Drumnetics – Beating New Life Into The Bass Drum Pedal

Episode 30 of Behind the Backline
Drumnetics – Beating New Life Into The Bass Drum Pedal
(pun intended)
Show Notes
As a drummer for 25 years, I feel it's fairly safe to say this: for years, the concept of the bass drum pedal has remained fairly unchanged. Aside from a few variations on the chain drive, such as the bike chain, fabric strap, or other materials used for the strap, and perhaps some enhancements to the spring mechanism, the overall design and operation of a drum pedal has been pretty consistent and trustworthy.
(Cue the action movie music) UNTIL. NOW.
The Bass Drum Pedal. Reimagined.
Have you ever stopped to think that those chains, straps and/or springs could be getting in the way of your performance? Maybe they are creating unnecessary friction or (in the event you drum barefoot like me, sue me) unnecessarily ripping open too many toes? Damn you bike chains and teeth gear wheels!
What if I told you I came across a drum pedal that relied on the invisible repelling power of magnets to do the exact same work?
What if I told you that a bass drum pedal existed that was virtually maintenance-free because there are no springs to wear and break?
What if I told you your toes, socks and shoes would be safe from any kind of gear teeth like a tiger ripping into its prey? What if you thought I was crazy for comparing drumming to a carnivore? (Well played, my friend)
It's Magic! Errr… Science!
The current single bass pedal model available, the 3XF, is the result of years of testing, experimenting, playing, learning, and improving. It relies on 3 strategically placed magnet sets that control the overall feel of your pedal, how fast your pedal board and beater react to your motions, and the throw and return repulsion.
The traditional chain or strap has been replaced by a hinged bar between the pivoting beater assembly and the pedalboard. My toes are happy just looking at that!
About Our Guest
Michael Van Dyk, owner and inventor of Drumnetics and the 3XF, joins us in this episode to talk about the years he held onto an idea he had regarding the use of magnetism in a bass drum pedal configuration, how those ideas finally drove him to start Drumnetics in 2006, and how the last 13 years have been a wild ride of learning how to run a business, learning how to design, develop, machine and produce his pedals, and gaining a legion of players and fans as a reward for his growth and success in making the pedal dream a reality.