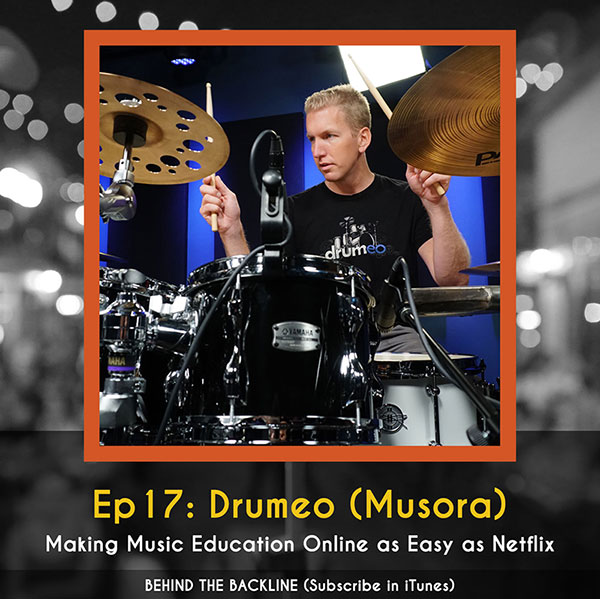 Drumeo – Making Music Education Online as Easy as Netflix
Episode 17 of Behind the Backline
Drumeo – Making Music Education Online as Easy as Netflix
Show Notes
Taking online lessons for anything requires a lot of self-discipline, especially since your online instructor can't necessarily hold you accountable like an in-person instructor can. But what if the platform allowed you to interact with your celebrity-level teachers and your fellow students in order to help keep you on track and provide encouragement?
Musora is the parent company of online education platforms Drumeo, Guitareo, Pianote, and Recordeo, but its story begins with the birth of Drumeo. In 2002, Jared Falk was a (patient) drum instructor, yet found it frustrating to try and teach the same thing over and over again to each new student he brought on. One of his students at the time was a bit of a tech guy, so they decided to try shooting a video at home to help educate drum students online.
The incredible success of their first video (roughly 12,000 downloads in a time before easy video platforms existed and dial-up internet was still more popular than high-speed) proved to them that there was potentially a large market for online music instruction.
Over the years, Drumeo became a powerhouse platform for new and veteran drummers alike, allowing students to either learn new chops or brush up on their skills. As time went on, instructional videos started to feature more and more top players in the industry, allowing students to learn first hand from their favorite drummers.
This success was later repeated with the launch of Guitareo for guitar players, Pianote for piano players, and now Recordeo, a newly launched platform for the home recording engineer that made its debut in late spring 2018.
Jared Falk, President of Musora, joins us in this episode to share the story behind how his Netflix of online music education started as a simple video shoot in a barn, their mission to bring affordable musical instrument and technical education to the world, and what it's like to work with some of the industry's top names and biggest A-players to bring quality material to their students.
Are you a Drum Brand or Manufacturer Looking to Increase Website Sales?