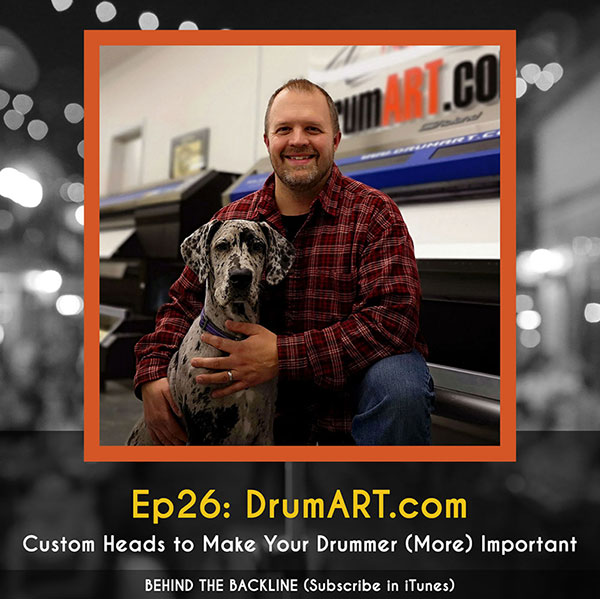 DrumART – Custom Bass Drum Heads to Make Your Drummer (More) Important
Episode 26 of Behind the Backline
DrumART.com – Custom Bass Drum Heads to Make Your Drummer the Director of Marketing*
Show Notes
Have you ever been to a concert and noticed the sexy, awesome band logo or custom artwork that the drummer has on his front bass drum head? Maybe you've secretly wondered how they do that or where they get it from?
What do you mean you haven't? Well, tough noodles. I'm still going to tell you. Be prepared to be amazed!
DrumART has been around since the early days of the Internet, having now designed and/or printed over 50,000 custom bass drum heads for drummers of all ages and levels, from beginner to internationally famous. Hell, even I've had two heads printed by these guys, so as a customer myself, I can safely and honestly say that these heads are the real deal!
The Secret to their Success?
A major piece to the success of their business model is their state of the art, web-based drum head builder, which allows drummers of all skill levels to easily drag and drop pieces to design their own drum head. Customers can either upload their own custom graphic or photo, or use one of around 70 million+ photos in DrumART's stock library and then add text, change colors, add ports, and more to craft the perfect masterpiece.
And Now a Word From Our… Sister Site?!
As a side note, DrumART also now has a sister website, GrillGraphics.com, which makes custom grill skins for guitars. But this episode is strictly about custom bass drum heads. Now back to our regularly scheduled podcast notes.
About Our Guest
Jim Feck, Owner, CEO, COO, CFO and Janitor of DrumART.com, and 5th generation family drummer (his son is #6!), joins us in this first new episode of 2019 to share the story of how DrumART got its start in the late 90's, how he responds to people who ask "what do you do for a living", the struggle to balance growing a business and raising a family, and what it's like having a nice 4,000 square foot facility in upstate New York to design, print, produce and ship custom bass drum artwork all over the world and have their heads displayed in front of millions of music fans.
* – Typically it's not usually a good idea to let your drummer have so much responsibility, but in this case, we think he or she can handle it. You can now breathe a sigh of relief.