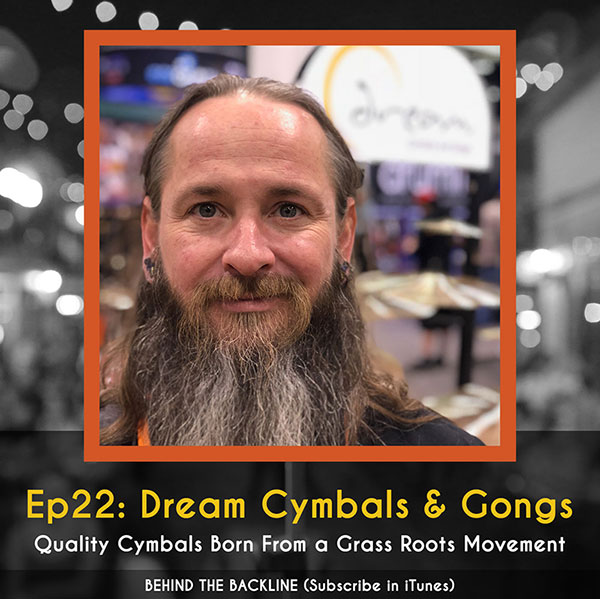 Dream Cymbals & Gongs – High Quality Cymbals Born From a Grass Roots Movement
Episode 22 of Behind the Backline
Dream Cymbals & Gongs – High Quality Cymbals Born From a Grass Roots Movement
Show Notes
A lot of businesses usually follow a pattern of starting out family-based and traditionally small with a focus on the customer. But as growth happens, it can be really easy to lose sight of that in order to accommodate the ever-changing landscape of a growing business. Leadership changes, employee turnover, hiring people who can fill support jobs but don't necessarily know the product inside and out, and a focus on the bottom line become more important than the roots you came from. It's nobody's fault, and most of the time it is a natural part of growth.
But as this and a few of our other interviews have revealed, the younger brands are attempting to keep customer-centric cultures intact while attempting to grow out of that new business mindset into one that can scale and be successful. This is great news for the music industry as it slowly makes the shift from solely corporate-owned to one that once again puts the fans and artists first.
Dream Cymbals and Gongs is no exception to this new (and revived) way of thinking. Now in their 10th year in business, Dream started out as a boutique cymbal brand, rooted first in producing high quality gongs and orchestral cymbals at a more affordable price point. Eventually they moved into drum sets and have now given all genres a more affordable, yet high quality cymbal to experience.
One of Dream's biggest unique factors is their industry-leading cymbal recycling program, where they will take just about any type of broken cymbal (except for those made of brass) and melt it down to be used in other Dream products; not necessarily their flagship product lines, but in ways that help re-use the materials and reduce the amount of materials ending up in landfills.
While their distribution does include a few bigger names such as KMC and Lone Star Percussion, it's mostly made up of smaller brick-and-mortar mom-and-pop shops. This allows Dream to be a brand that's giving back to its local communities by supporting the smaller shops and driving more business to them. They even use the smaller retailers to host events such as cymbal recycling drives and cymbal tasting events that pair with wine, foods and other local vendors to draw people into the stores.
Brian LaRue, Director of Operations for Dream Cymbals & Gongs, joins us in this episode to share the story of how Dream started, the details behind the industry's most creative (and only) cymbal recycling program, and what it's like to be a part of a small, yet efficient team taking on the cymbal industry from a new perspective.
Are you a Drum Brand Looking to Increase Sales?