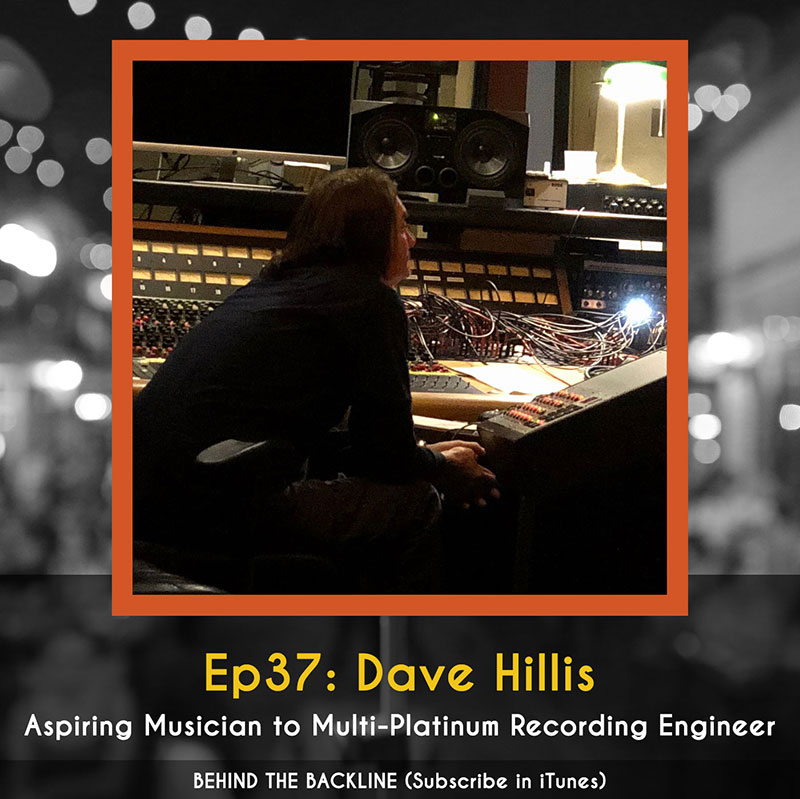 Dave Hillis – From Aspiring Musician to Multi-Platinum Recording Engineer
Episode 37 of Behind the Backline
Dave Hillis – From Aspiring Musician to Multi-Platinum Recording Engineer
Show Notes
The music industry is an interesting place to be. A path you might start down might not be the path you end up on. What you think you want to do may not be the thing the industry picks for you. For creative musician types, there isn't necessarily a typical "corporate ladder" structure that provides a single path like other industries. In fact, the music industry is more like a series of (tuning) forks or a "choose your own adventure" book that dictates your career path.
Once Upon a Time in Brooklyn…
Born and raised in Brooklyn, Dave Hillis grew up next door to the future lead vocalist and bass player for Type O Negative Peter Steele. At the age of 5, Dave started playing piano and guitar, and had a chance to watch Pete play in bands and become inspired by the rock and metal scenes.
Finding that he wasn't good at playing cover songs, he found a passion for writing his own original music. Noting the record labels on his favorite bands' album cases, he started just sending tapes of his original tracks to them and eventually got picked up at the age of 17.
…Onward to Seattle…
After moving to Seattle, he had the chance to record at London Bridge Studios. After a chance meeting about town with the studio owner and sharing how well his recording session was going and how much he loved being in the studio, the owner gave him a chance to work at London Bridge as his new assistant.
This was the being of a historic trip in the recording industry for Dave. Just by being in the same practice rooms and recording spaces as all these guys that were at the time unknown and unsigned, he became friends with (and eventually recorded) who we now know as Pearl Jam, Alice in Chains, Blind Melon and more.
…Happily Ever After In Pittsburgh
After having Seattle run its course and some family changes, Dave and his wife relocated to Pittsburgh. They really had no plans in regards to music or recording, so it was a bit exciting, scary and fresh.
Shortly after the move, Dave met Liz Berlin, a founding member of the 90's band Rusted Root. Liz and her husband owned a theater, which was a former church, in Pittsburgh called Mr. Smalls. They also owned another church across the street from Mr. Smalls which she planned to convert into a recording studio, starting with the onsite Trident TSM Console she had recently acquired. Once she sparked Dave's interest with the recording studio plans, they went in together to establish and build the new studio.
Dave was able to bring out and contribute to the new studio the 2" Studer machine from London Bridge Studios that recorded some of the greatest albums of the day, including from Pearl Jam, Soundgarden, Blind Melon and Screaming Trees.
The whole goal of the new studio, which is called HJI Frequencies, is to do albums like they used to, to produce and maintain that historic, classic sound quality and bring that recording experience to newer and upcoming artists.
About Our Guest
Dave Hillis, a multi-platinum recording engineer who's worked in Seattle during the grunge era on 90's albums from Pearl Jam, Alice in Chains and more, joins us in this episode to share his story from being a young, aspiring musician to getting into recording and working on some of the most historic and legendary albums of our time.