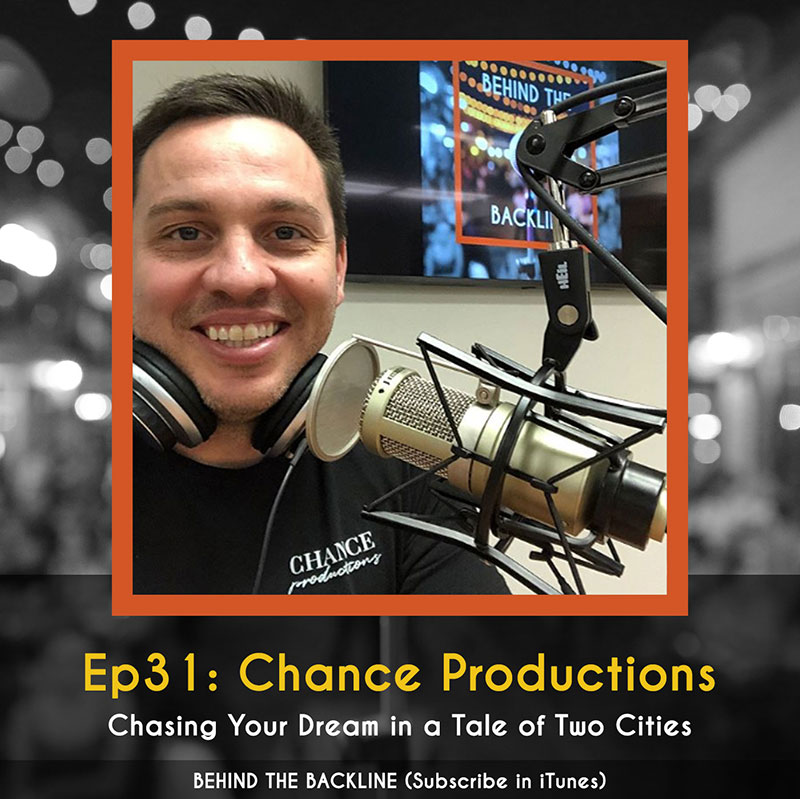 Chance Productions – Chasing Your Dream in a Tale of Two Cities
Episode 31 of Behind the Backline
Chance Productions – Chasing Your Dream in a Tale of Two Cities
Show Notes
DISCLAIMER: YES, this is our one-year anniversary episode! NO, this is not our last episode. NO, this guest does not kill podcasts! Now back to our regularly scheduled programming.
Everyone personal story and every business story comes from humble beginnings of some kind. This story, like many others, could be chalked up to a supportive family, a motivational spouse, and a desire to never work in a grocery store again.
A Magical Startup!
Starting a business in any industry is not an easy feat, but starting a business in the music and entertainment industry in a smaller regional area almost requires you to be a sexy magician! But if you know what you're doing, have the ability to network, build connections, build your list of people you prefer to work with, establish a reputation in the industry as the local production company that will do things others won't, and put in the long hours day and night, anything is possible!
Master of Sexy Event Logistics
An event production company that has a lot of moving parts and several employees can definitely handle the day-to-day tasks of mastering event logistics as part of a team effort.
But apparently if you do it right, a single entrepreneur can juggle employees, manage contractors, balance the books, order the rentals, and drive the equipment, time and talent necessary to pull a production off with flying colors, all while running on a few hours of sleep. Who is this magical beast?!
Proving That Any Business Can Take Advantage of Sexy New Technology?!
While most companies would avoid this, Chance sees the use of drones and drop shipping methods a fun and efficient way of getting their employees and contractors to event production sites in record time, all for a low flat rate. Take that Amazon!
About Our Guest
Jason Chance, owner of Chance Productions, joins us in this episode to talk about where the passion for this line of work came from, his business move from Rockford, Illinois to Madison, Wisconsin, how his dad, grandma, and spouse came to be among his most vocal and supportive backers, what happened once they actually let him out of college, and what it's like to be "sexy" in the event production industry.
Watch the Original Interview
This episode was recorded in February 2019 in front of a single-person (Logan) studio audience in downtown Madison, Wisconsin at Brix Events Meeting & Event Venue. You can watch the original Facebook Live video on our YouTube channel.
Footnotes:
The overuse of the word "sexy" in these show notes was intentional and based on the content and context of this interview.
Chance Productions employee Logan was not harmed in the making of this episode or Facebook Live video.
No employees are ever drop shipped by drones. This is an awful joke and the author needs a scolding.