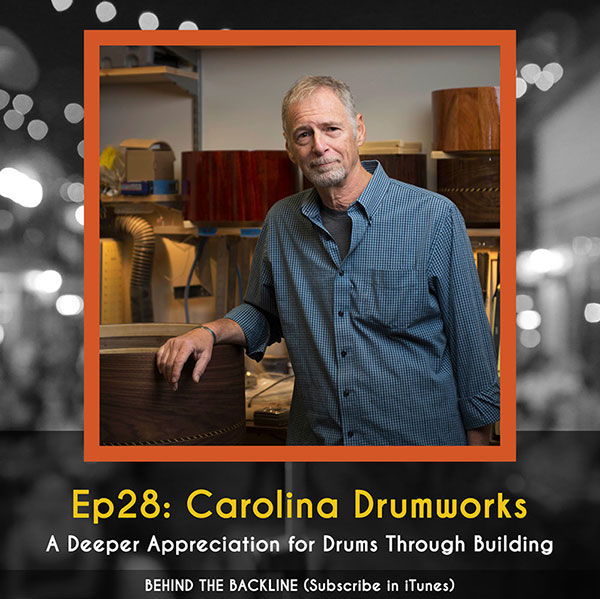 Carolina Drumworks – Finding a Deeper Appreciation for Drums Through Building
Episode 28 of Behind the Backline
Carolina Drumworks – Finding a Deeper Appreciation for Drums Through Building
Show Notes
For most people who come into contact with drums, they have a very basic understanding of the relationship between a drummer and his tools. And the case is the same for some drummers too, who only enjoy the basic level of understanding when playing and performing live.
But for some, where the art of drum building and performance is serious business, they have a zen-like passion and obsession with the science, the materials, the sound, and the craftsmanship that goes into each finished drum.. For some, the deep connection between a drum and its builder can be a beautiful state of mind that most people will never understand or experience.
Another Reason for Jam Sessions
As I learned more about how much I didn't know about my drums in 25 years of playing, a single drum can be played by 12 different people and reveal 12 different characters based on the connection it has with each player. The sound that is heard from behind the drum is entirely different from what the audience experiences, so if you build drums, remember to take a cue from Carolina and take a drum to an open mic or jam session and experience the sound of your "children" from the audience's point of view versus from the drummer's point of view.
Hand-Crafted to the Core
As you'll come to hear during this episode, Carolina Drumworks isn't your typical custom drum shop, where using all the standard machines and techniques to build the core product and then putting an unique spin on it to make it their own is more often the norm that not. In fact, Carolina lives in a very small shop, too small for most machines, including the finishing and spray machines (which they do not own). This allows their process to maximize the amount of hands-on time with each drum, forming a deeper relationship with each drum from bare materials to finished masterpiece.
About Our Guest
Jeff Hankin, owner of Carolina Drumworks, joins us in this episode to talk about how he was inspired to deepen his relationship with his drums by going from just a decades-long player to building his first drum using a shell he found on eBay. To this day, he prefers building one of a kind masterpieces for drummers who are much better than him, knowing that his perfect drums are the best they can be for the best players in the world.