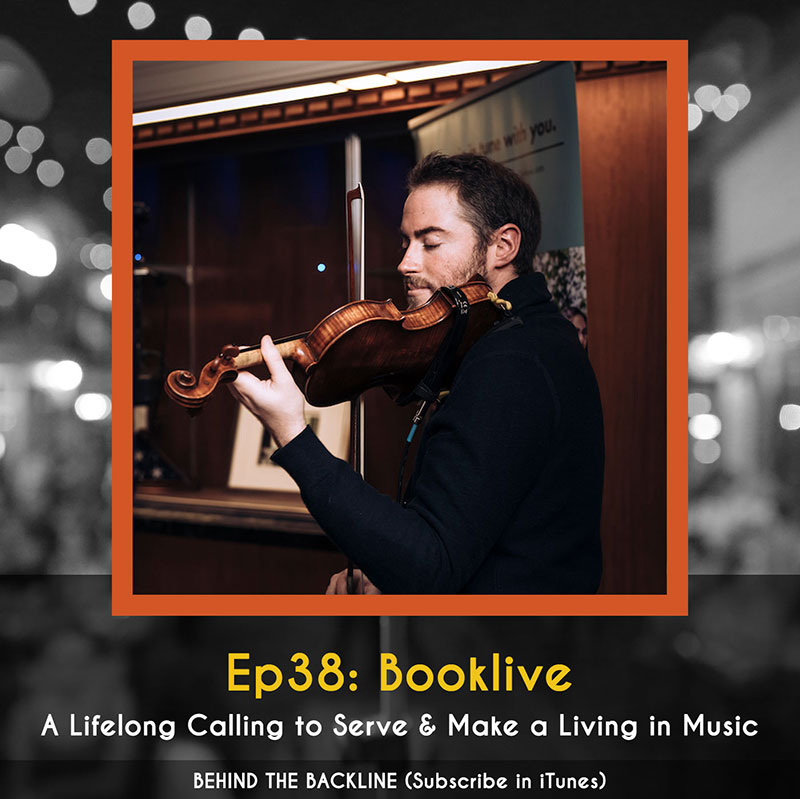 Booklive – A Lifelong Calling to Serve & Make a Living in Music
Episode 38 of Behind the Backline
Booklive App – A Lifelong Calling to Serve & Make a Living in Music
Show Notes
Very few of us know exactly what we want to do when we grow up, regardless of our current age (under 20 and over 80, I'm talking to you too!). In fact, for most of the human race and society, the expectation to go from childhood, to grade school, to high school, to college, to career, to family, and end in retirement has become a bit of a scary "cookie cutter" way of life. There aren't enough of us asking "why do we do that?". What if everyone on this planet was able to easily identify their true passion, their true calling and accept that as what each of us are meant to do to contribute to the world during our time here?
In modern times, it's more common to hear about this story in technology and philosophical industries where people are following their dreams to change the world for the better, but it's not as often that you hear about this kind of story coming from the world of DIY arts and music outside of the superstar record deals and the American Idol type success stories.
Once Upon a Coast
This story begins on the east coast with a little boy named Jared. After seeing his first live music performance by a violinist, this 5-year-old went home, found a couple of popsicle sticks, held them up to his shoulder and pretended they were a violin. The rest, as they say, is classical music history.
Making the Jump to Music College
From following a deep passion to perform, to finding a second love of conducting an orchestra and prompting him to go back to school for it, Jared's blood runs deep with "music geek" (his words).
After being accepted into the University of Wisconsin Milwaukee for his orchestra conducting calling, like many other musicians he found himself strapped for cash and trying to make ends meet with unrelated jobs that he felt were not contributing to his musical ambitions.
From Music to Entrepreneur
As he began to realize how much "back office" training in business was taught in music schools, his self-guided drive to learn these things landed him a record number of bookings as a string performer for weddings. This newfound knowledge prompted him to launch Dream City Music, a music booking agency that helps brides and grooms find string players and quartets for their big day.
Taking it one step further, his experience as a web and app developer aided in his launching of the internal tools used by Dream City Music that helped their clients take their music to the next level.
These tools would eventually become the foundation for what is now known as Booklive, a web-based app that helps musicians organize the business side of their craft and enables them to grow their music businesses.
About Our Guest
Jared Judge, owner and founder of Dream City Music and the Booklive app, joins us in this episode to share his musically enchanted story. From preschool to present day, Jared's story is a reminder of how important it is these days that musicians realize they aren't just performers. They are also entrepreneurs and small business owners.