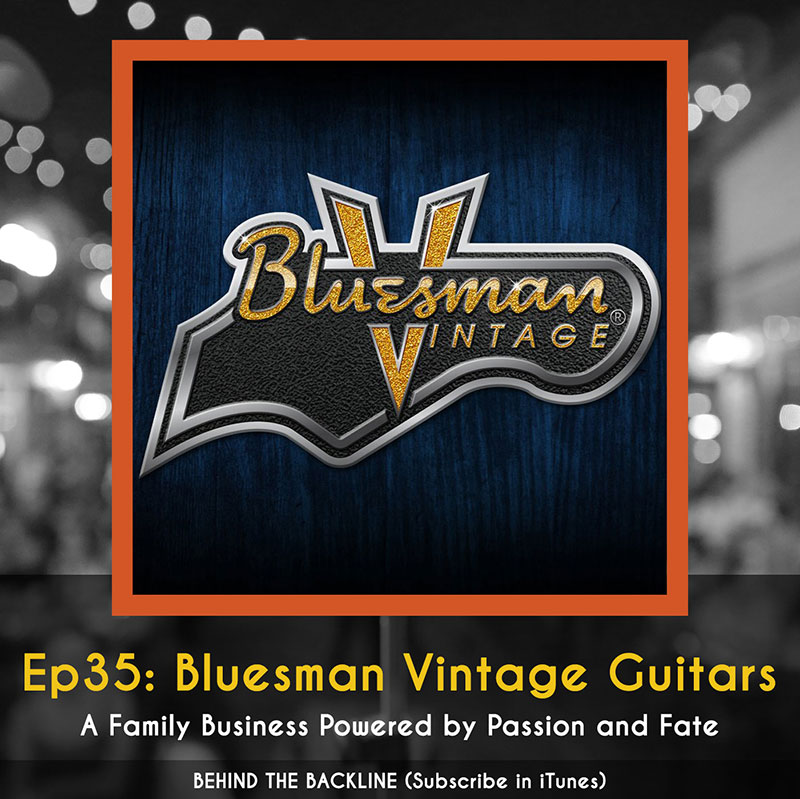 Bluesman Vintage Guitars – A Family Business Powered by Passion and Fate
Episode 35 of Behind the Backline
Bluesman Vintage Guitars – A Family Business Powered by Passion and Fate
Show Notes
Most people who go into business have an idea they want to try and make a valiant effort and are aware that things are either moving or not moving. Most people need to put in the work to watch the seed they plant grow. Every once in awhile, though, it seems God and fate are in the driver's seat and you just come along for the ride.
That's what happened with John, the snot-nosed kid from Tennessee. Poor guy!
Once Upon a Familiar Story…
The story begins like others you've heard: boy meets guitar, boy hates the sound guitar makes, boy sees a lot of guitars, boy breaks up with lots of guitars, boy thinks he can do better himself, boy makes snot-nosed comment in one store, boy gets "scolded" with a random opportunity to apprentice with a guitar shop owner who teaches him the ways of guitar building, and so on. Stop me if you've heard that one.
Wait, you haven't? Well, shhhhhhhhhhhh…..
The Familiar Part Ends, Fate Chaotically Takes Over
After leaving his last job as a guitar finisher and frantically wondering how he was going to support a new family, one of John's customers called him up and insisted that he help him with fixing up his guitar. Seriously, insisted. To the point of offering to buy him the tools he needed while on the way to his house that day serious. No seriously, like shut the front door serious. (I digress)
That single rogue customer that stalked John to his garage started to snowball. First one, then another, and another, and soon we end up to present day where John now runs Bluesman Vintage Guitars as a retail, repair and build shop just outside of Nashville in Spring Hill. This shop has never seen an ounce of paid advertising beyond normal organic Facebook and Instagram activity. He even builds and works on major player guitars and amps, including Aaron Tippin, John Rzeznik (Goo Goo Dolls), and Rascal Flatts.
I mean, seriously, how else do you explain a snowball effect without marketing and built on a reputation that you constructed as an employee of another shop?! C'mon! Why can't we all get our fate handed to us?! OMG! (I need a drink)
About Our Guest
John Scott, founder and owner of Bluesman Vintage Guitars (not a cancer by the way), joins us in this episode to share his incredible story of how his early years in bands and learning how to build guitars eventually led to him establishing his first business in his guitar and growing it into what it is today, where they work on guitars for players he grew up listening to, buying the building they operate out of and how they are already looking to expand the physical space because their growth isn't stopping.
SHAMELESS PLUG: As a side note, John and I found out during this call that we both knew some of the same people out of Madison and Nashville, including up and coming female country artist Kirstie Kraus and her friend and former guitar player Jacob Vance.