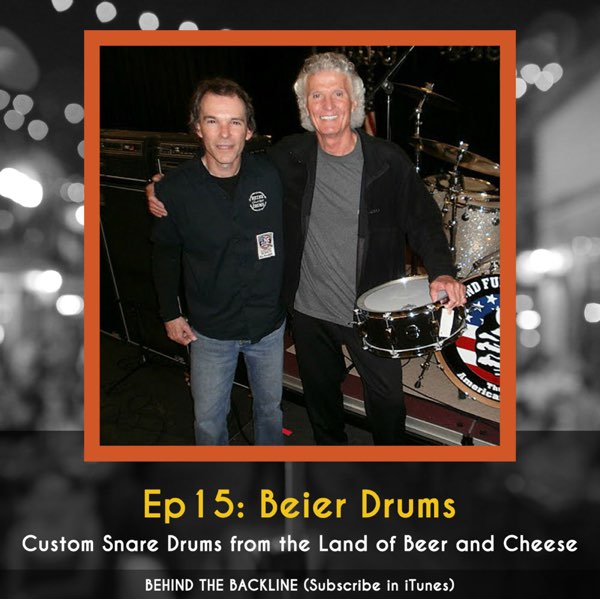 Beier Drums – Custom Snare Drums from the Land of Beer and Cheese
Episode 15 of Behind the Backline
Beier Drums – Custom Snare Drums from the Land of Beer and Cheese
Show Notes
Getting a compliment on the way you look can always make your day. But getting a compliment on the way your drum sounds when that person has never even seen the actual product but knows it right away in a crowded, noisy venue? That might be the best kind of compliment of all.
Making a snare drum that over delivers on sound quality is far from easy, but it's also not that difficult when you have the passion and know in your mind exactly the sound you want to achieve. This passion and attention to sound quality is apparent in every snare drum that Beier Drums makes.
What else did we learn during this episode? The once-popular 15" snare drum had somehow all but disappeared from the music scene during the mid-20th century (before my time), being replaced by the now mostly standard 14" model. However, just because something is standard doesn't always mean it's a good thing!
Jim Beier, owner of Beier Drums in Oconomowoc, Wisconsin (we dare you to try and pronounce that!), joins us in this episode to share his story of how he started Beier Drums in 2010, why he currently focuses on only snare drums and sound quality, why he's on a mission to revive the 15″ snare drum, and what it's like to operate a one-man snare drum operation.
On a final note, if you can't remember how to spell "Beier", just put an "i" in the middle of the word "beer". Voila! 🙂
Are you a Drum Brand or Manufacturer Looking for Business Growth?