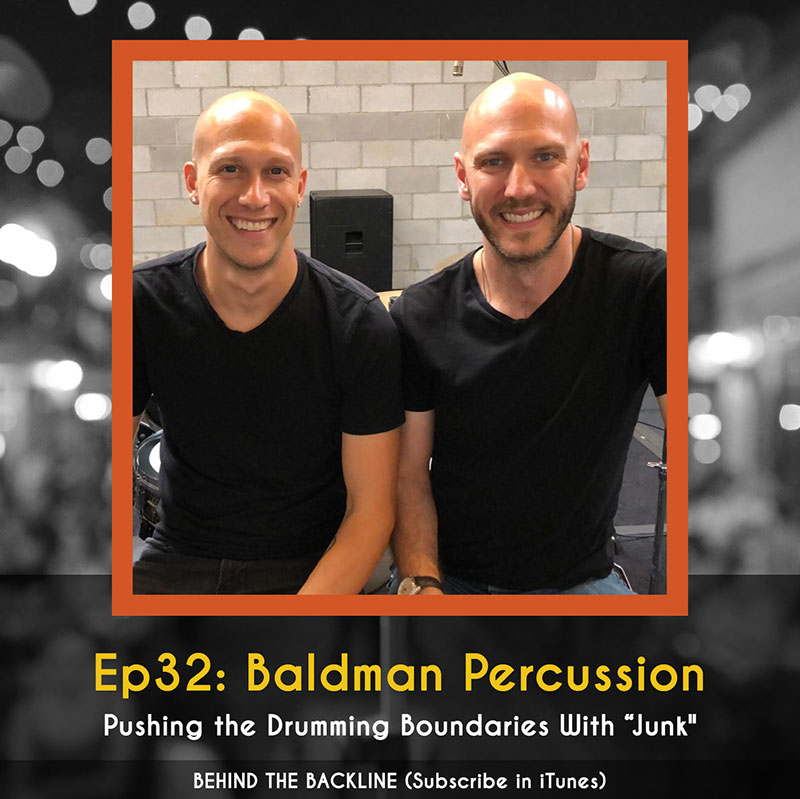 Baldman Percussion – Pushing the Drumming Boundaries With "Junk"
Episode 32 of Behind the Backline
Baldman Percussion – Pushing the Drumming Boundaries With "Junk"
Show Notes
First of all, 3 drummers on a podcast don't make a right. But they do make the occasional awful pun and have lots of fun! Hell they even rhyme sometimes! And to top it all off, 2 of them are bald and one resembles Andy Samberg! Lonely Island anyone?
Don't Judge a Book (or Instrument) by its Cover
Sometimes a product comes along that may not give you any clue as to what it is or does upon first encountering it. Sometimes you need to spend some time learning about it or trying it out to see if it works for you. Yes, this is one of those products.
In a creative quest to figure out new sounds and new ways of producing those sounds on an acoustic drum kit setup, sometimes the product you initially pictured doesn't end up being the "unique" item that comes out on the other end.
It's at this very moment that I now realize what I described above is not a trip to the bathroom (my full apologies), but actually a new type of percussion instrument that, ironically enough, produces the same sound as an 808 hand clap sample.
Hip hop and R&B artists, your next trendy gear has just arrived: introducing the Junk Hat by Baldman Percussion!
At first glance, the Junk Hat might scare you. But don't fret! Its unique design and construction is actually intentional and has seen roughly 9 months of prototyping and development.
The Junk Hat looks like a traditional hi-hat, but offers a new live and studio sound experience unlike anything currently on the market. To explain it like a hi-hat, the top "cymbal" is made of wood and the bottom "cymbal" is a hand-hammered metal disk. In between the two are a collection of chains that create a reverse hi-hat sound, or a backward swish. When closed and played, it actually resembles the sound created by an 808 hand clap audio sample.
NAMM: What Do I Do With This?!
2019 was the junk hat's first time to the NAMM show in Anaheim, California, and while it created a lot of interesting looks and blank stares at the beginning, it eventually became a popular item, with several bigger names stopping by to try it out, having that light bulb moment and then excitedly asking where they could get one!
About Our Guests
Mike McKee and Danny Young, owners of Baldman Percussion (yes they are both bald and drummers), join us in this episode to talk about how they met, where the inspiration for a product as unique as the junk hat came from, how the response has been from other players, including Stephen Colbert's house drummer and the drummer for SNL, and how they've used the junk hat in their own playing to spruce up their performances.